TEAMING UP WITH YOUR DOCTORS ON THE MANAGEMENT OF MPS I
First, find the right doctors
MPS I is a rare disorder, so many doctors may not have the experience with the disease. Finding a doctor who is ready to work through the issues with you is important. It is also vital to choose a doctor that you and/or your child feels comfortable with. You may want to meet several doctors before making a decision on the one who you/your child feel most comfortable with.
Team up with your doctors to understand MPS I better
Because MPS I can affect multiple organs in the body, this may demand visiting a variety of specialty doctors. A trusted relationship with your doctors will make the experience better. It will also help you understand MPS I better.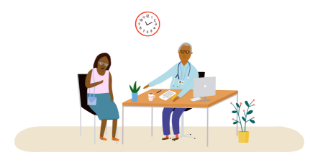 Ask questions
Don't hesitate to ask questions to your healthcare providers if you need more information or if there is anything you do not understand. If something doesn't make sense, ask your doctor to explain it again and define any unfamiliar terms. You may also repeat everything your doctor has said to you in your own words to make sure that you understand everything.
You may find it helpful to prepare a list of your questions and doubts before the doctor visit. Here are something that may be important to discuss with your doctor:

The reason for your visit

The symptoms or issues that need attention

Anything new that the doctor should know

If you have questions about any specific aspects of MPS I treatment

Any other questions related to the care of someone with MPS I

It is important to understand the treatment options that are available. Here are a few questions you may want to ask your doctor in your/your child's case:

What treatment options are available?

How can these options help?

Which options may be right?

What are the risks and benefits of these options?

How much will it cost?

Is it covered by insurance?

What patient support groups are available?

Someone's MPS I team of doctors may include pediatrician (primary care for children), endocrinologist (endocrine system specialist), orthopedics, geneticist, genetic counselors, gastroenterologist, neurologist, cardiologist (heart specialist), ophthalmologist (eye specialist), rheumatologist (systemic autoimmune disease specialist), pulmonologist (lung specialist), and otolaryngologist (specialist on ears, nose, and throat).

Disease-specific treatments may include FDA approved therapy and/or hematopoietic stem cell transplantation (HSCT). Other than this, supportive care and complications management is also important in MPS I.

Management may be applied in MPS I include:

Supplemental oxygen for difficulties in breathing

Continuous positive airway pressure (CPAP) machines for interrupted breathing during sleep (sleep apnea)

Surgery (e.g., tracheostomy) for difficulty in breathing

Physical therapy for joint stiffness

Heart valve replacement therapy for heart problems

Eating a healthy diet is an important part of a healthy lifestyle. You may also want to talk to your doctor(s) if you have any questions about your diet.

You may find it hard to exercise with MPS I, but it's still important. Keeping fit can help you to feel better. Though there may be limitations, ask your healthcare team for recommendations on physical therapists and/or exercise options that you may enjoy.

When things are difficult, it's important to look after how you feel. Here is some advice from patients and families living with MPS I on how to look after yourself.

Sometimes it's helpful to think of MPS I as something separate from you or your child

You have your own interests, skills, and life—MPS I does not define you. You can't change the diagnosis, but thinking of MPS I in this way may stop you from internalizing any negative emotions you have about MPS I

Try to replace negative emotions with positive affirmations about yourself or your child

Make sure you dedicate time to do the things that you enjoy and that make you happy

Looking after your physical health and taking the time to switch off and rest are equally important
CPAP, continuous positive airway pressure; HSCT, hematopoietic stem cell transplantation; MPS I, mucopolysaccharidosis type I.